InsuranceCompany.com is a specialist in discount dental care, dental plans, vision and prescription programs. We have been in business since 1983 and offer several national dental, vision and prescription programs depending upon the state you live in...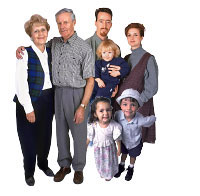 Start saving up to 20-60% or more on dental charges including restorative, cosmetic work (fillings, crowns, implants, braces, etc.) and preventative work (teeth cleaning, x-rays, etc.) General dentistry and all specialties where available are discounted. You can go to the dentist as many times as you need too...
Monthly rates are $9.95 for an individual and $15 for the family plan. A family membership is all residents in the household, including children, parents, relatives, significant others, and all permanent residents of the household. This dental package includes dental, vision and prescription (Rx) services.
The plan offers a choice of more than 24,000 dental providers nationwide - all carefully credentialed to offer the kind of care we demand and our patients expect. Our dentists must meet the Plan's standard of quality and service. All have agreed to provide dental care at the low co-payments available only to members.

The vision plan administered by Cole Managed Vision® has contracted with over 9,000 optical centers nationwide to give you 45% to 60% discounts on eyeglasses, 20% discount on conventional contact lenses, and 10% off on disposable contact lenses.

The prescription plan administered by AdvancePCS® has established a nationwide network of pharmacies to give you up to 15% discounts on name brand drugs and up to 55% discounts on generic drugs with an average savings of 24%.

There is no waiting period for your dental coverage to begin, pre-existing dental conditions are covered and best of all, the dental plan coverage starts the next business day, so you can see the plan dentist immediately. However, there is no coverage for any "dental work in progress" before entering the plan related to orthodontics.


After you complete the online dental application, we will send you an email confirmation as your temporary proof of application (be absolutely sure your email address is correct once you have entered it) with instructions on how to make your first dental appointment without your id cards (as they will arrive in 10-14 days).